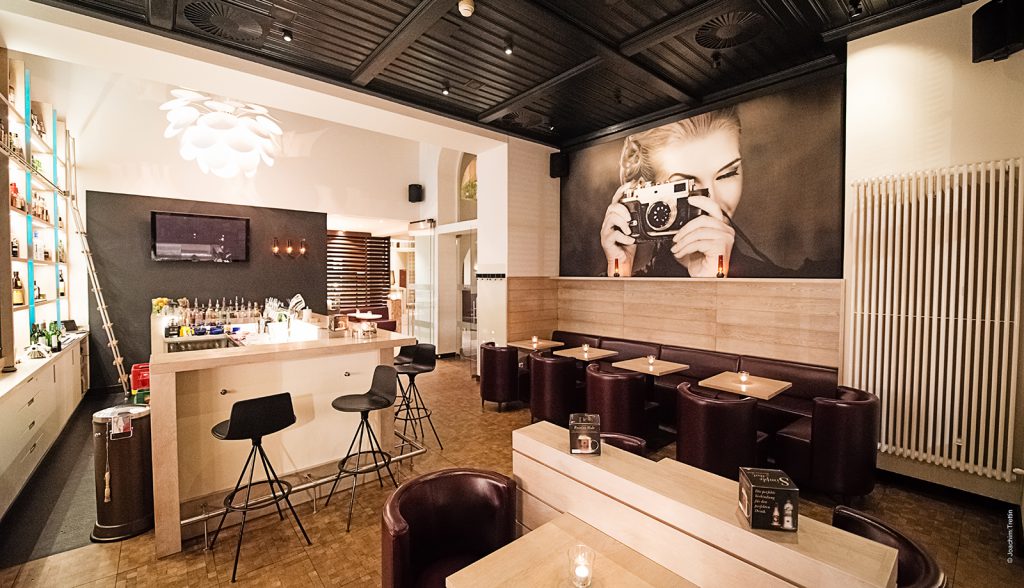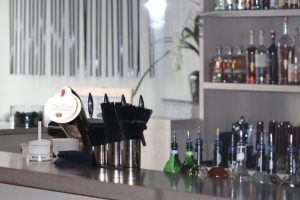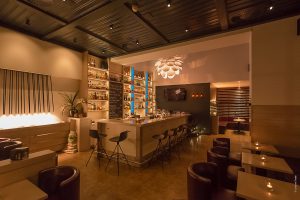 Simply everything suits here. The new ambience of the Buelow bar invites to stay.
Choose the suitable drink for you out of 100 cocktails, 9 vodka, 20 rum, about 60 gin, 9 grappa as well as 120 whisky sorts.
Our bartenders will help you in word and deed.
All about gin
It is again and again fascinating which flavourful ranges juniper brandy GENEVER, better known as GIN, can show. Its special taste is owed to juniper berries (lat. juniperus). It derives from a spirit distilled from fermented grain and redistilled step by step after adding a specific aromatic set of "botanicals" – herbs, fruits, and juniper berries.
Just shortly for the next bar table: Gin can be made from almost anything distillable. Per definition gin is a spirit with the flavour of juniper made by redistilling drinkable spirit after flavouring with juniper berries. It was invented by the German Franciscus Sylvius as Genever (derived from juniperus) in the middle of the 17th century presumably for medical purposes – his special subject was digestion. British soldiers liked it very much, they brought it to London. Its popularity caused a gold-rush mood in the back yards. Soon the Crown saw itself forced to launch a purity law. The result: Gin now became a trendy drink even for the aristocracy.
The medical use of gin as malaria prophylaxis ensured the increasing popularity of the distillate. However, in fact the quinine containing tonic water is what chases the mosquitos. Quinine, a bittern extracted from the bark of the cinchona tree, is dissolved in carbonated water to form tonic water. A sweating person exudes the bitter substance through the pores, by that the sweat receptors of mitches are deceived – and the mitches are kept a bay. Especially in the former crown colony India malaria was widespread. Fortunately this tonic water had such a disgusting bitter taste that the soldiers added some of the popular gin to make it drinkable. One of the most successful long drinks was born: gin & tonic.
Gin
| | | |
| --- | --- | --- |
| England | | 4cl |
| Tanqueray Rangpur | 41,3 Vol. % | 7,50 € |
| Tanqueray | 47,3 Vol. % | 5,50 € |
| Tanqueray Ten | 47,3 Vol. % | 6,50 € |
| Tanqueray Bloomsbury | 47,3 Vol. % | 8,50 € |
| Tanqueray Earl Grey Infusion | 47,3 Vol. % | 6,50 € |
| Broker´s | 40 Vol. % | 5,- € |
| Bombay Sapphire | 40 Vol. % | 5,50 € |
| Bombay Sapphire | 47 Vol. % | 7,50 € |
| Beefeater | 47 Vol. % | 5,50 € |
| Bulldog Extra Bold | 47 Vol. % | 7,- € |
| Finsbury | 47 Vol. % | 5,50 € |
| Gordons | 37,5 Vol. % | 5,- € |
| London Gin No.1 Original Blue | 47 Vol. % | 7,50 € |
| Martin Miller Westbourne | 45,2 Vol. % | 7,50 € |
| Williams Chase S. Orange | 40 Vol. % | 14,50 € |
| Brockman´s | 40 Vol. % | 9,50 € |
| Whitley Neill | 42 Vol. % | 8,- € |
| Gunroom London Dry | 43 Vol. % | 9,50 € |
| Tarquin´s Handcrafted Dry | 42 Vol. % | 9,- € |
| | | |
| --- | --- | --- |
| USA | | 4cl |
| Bluecoat American | 47 Vol. % | 8,- € |
| Junipero | 49,3 Vol. % | 7,50 € |
| Pinckney Bend | 46,5 Vol. % | 8,- € |
| St. George Dry Rye | 45 Vol. % | 8,50 € |
| | | |
| --- | --- | --- |
| Canada | | 4cl |
| Seagrams | 40 Vol. % | 7,- € |
| | | |
| --- | --- | --- |
| Norway | | 4cl |
| Isfjord Premium Arctic | 44 Vol. % | 7,50 € |
| | | |
| --- | --- | --- |
| Sweden | | 4cl |
| Hernö | 40,5 Vol. % | 7,50 € |
| | | |
| --- | --- | --- |
| Scotland | | 4cl |
| Jinzu | 41,3 Vol. % | 8,50 € |
| Botanist | 46 Vol. % | 8,- € |
| Hendrick´s | 44 Vol. % | 7,50 € |
| Rock Rose Gin | 41,5 Vol. % | 9,50 € |
| Blackwood´s Vintage Dry Gin | 40 Vol. % | 9,- € |
| | | |
| --- | --- | --- |
| Spain | | 4cl |
| Gin Mare | 42,7 Vol. % | 8,- € |
| Gin Eva Mallorca | 45 Vol. % | 8,- € |
| | | |
| --- | --- | --- |
| France | | 4cl |
| G´Vine | 40 Vol. % | 7,50 € |
| Gold 999 | 40 Vol. % | 8,50 € |
| | | |
| --- | --- | --- |
| Colombia | | 4cl |
| Dictador Black | 43 Vol. % | 8,- € |
| Dictador White | 43 Vol. % | 8,- € |
| | | |
| --- | --- | --- |
| Belgium | | 4cl |
| Fillier´s Dry Gin 28 | 46 Vol. % | 8,50 € |
| Fillier´s Sloe | 26 Vol. % | 9,- € |
| Copperhead | 40 Vol. % | 15,- € |
| | | |
| --- | --- | --- |
| Switzerland | | 4cl |
| Studer Matterhorn | 40 Vol. % | 13,- € |
| | | |
| --- | --- | --- |
| Germany | | 4cl |
| Windspiel | 47 Vol. % | 9,50 € |
| Berliner Brandstifter | 43,3 Vol. % | 7,50 € |
| Gentle 66 | 45 Vol. % | 8,50 € |
| Siegfried | 41 Vol. % | 8,- € |
| Elephant | 45 Vol. % | 7,50 € |
| Madame Geneva Rouge | 41,9 Vol. % | 7,- € |
| Monkey Sloe | 29 Vol. % | 8,50 € |
| Monkey 47 | 47 Vol. % | 8,50 € |
| Sears | 44 Vol. % | 6,- € |
| SOS Spirit of Sylt | 41 Vol. % | 8,50 € |
| The Duke | 45 Vol. % | 7,- € |
| Gin Sul | 43 Vol. % | 8,50 € |
| Ferdinand | 44 Vol. % | 9,- € |
| Ferdinand Quince | 30 Vol. % | 9,- € |
| Gansloser Black Gin | 45 Vol. % | 8,50 € |
| O49 Osnabrücker Gin | 49 Vol. % | 8,50 € |
| | | |
| --- | --- | --- |
| Tonicwater | | 0,2l |
| Schweppes Indian Tonic Water 0,2l | | 2,60 € |
| Schweppes Dry Tonic Water 0,2l | | 2,60 € |
| Thomas Henry Tonic Water 0,2l > | | 3,50 € |
Whisky
| | | | |
| --- | --- | --- | --- |
| Islay | | 2cl | 4cl |
| Ardbeg 10 Years | 46 Vol. % | 5,- € | 9,- € |
| Ardbeg – Uigedail | 54,2 Vol. % | 6,50 € | 12,- € |
| Ardbeg – Corryvreckan | 57,1 Vol. % | 7,- € | 13,50 € |
| Ardbeg – Perpetuum | 47,4 Vol. % | 10,50,- € | 18,50 € |
| Ardbeg – Dark Cove | 46,5 Vol. % | 10,50,- € | 18,50 € |
| Bowmore 12 Years | 40 Vol. % | 4,- € | 7,- € |
| Bowmore 15 Years – Darkest | 43 Vol. % | 7,- € | 11,- € |
| Bowmore 18 Years | 43 Vol. % | 7,50 € | 13,- € |
| Bowmore – 100 Degrees Proof | 57,1 Vol. % | 6,- € | 11,- € |
| Bowmore 15 Years – Laimrig | 53,7 Vol. % | 7,50 € | 14,50 € |
| Bowmore – Legend | 40 Vol. % | 4,- € | 7,- € |
| Bowmore 10 Years – Tempest ~ Batch 6 | 54,9 Vol. % | 7,50 € | 13,- € |
| Bunnahabhain ca. 10 Years – Ceobanach | 46,3 Vol. % | 8,50 € | 14,50 € |
| Bunnahabhain 12 Years | 46,3 Vol. % | 4,50 € | 8,- € |
| Bunnahabhain 18 Years | 46,3 Vol. % | 8,50 € | 16,- € |
| Bruichladdich – The Organic 4,5l Fl. | 46 Vol. % | 6,50 € | 12,- € |
| Bruichladdich – Port Charlotte ~ Islay Barley | 50 Vol. % | 7,50 € | 14,- € |
| Bruichladdich – Octomore 6.1 ~ PPM: 167 | 57 Vol. % | 13,- € | 25,- € |
| Bruichladdich – Octomore 6.3 ~ PPM: 258 | 64 Vol. % | 13,50 € | 26,- € |
| Caol Ila – Moch | 43 Vol. % | 4,50 € | 8,- € |
| Caol Ila 12 Years | 43 Vol. % | 4,50 € | 8,- € |
| Caol Ila 14 Years ~ Unpeated | 59,3 Vol. % | 8,- € | 15,- € |
| Caol Ila 18 Years | 43 Vol. % | 8,50 € | 16,- € |
| Lagavulin 8 Years | 48 Vol. % | 8,- € | 15,- € |
| Lagavulin 16 Years | 43 Vol. % | 7,- € | 12,- € |
| Lagavulin 12 Years ~ Cask Strength | 57,5 Vol. % | 8,50 € | 14,- € |
| Laphroaig 10 Years | 40 Vol. % | 3,50 € | 6,50 € |
| Laphroaig – Select | 40 Vol. % | 3,50 € | 6,50 € |
| Laphroaig – Quarter Cask | 48 Vol. % | 5,- € | 8,50 € |
| Laphroaig – Triple Wood | 48 Vol. % | 5,- € | 9,- € |
| Laphroaig – PX Cask | 48 Vol. % | 9,- € | 16,- € |
| Laphroaig – Lore | 48 Vol. % | 13,50 € | 26,- € |
| Laphroaig – Brodir ~ Port Wood | 48 Vol. % | 13,50 € | 26,- € |
| Laphroaig 18 Years | 48 Vol. % | 8,- € | 14,50 € |
| | | | |
| --- | --- | --- | --- |
| Islay – third party bottler/blended whisky | | 2cl | 4cl |
| Smokehead | 43 Vol. % | 4,- € | 7,- € |
| Smokehead 18 Years | 46 Vol. % | 8,50 € | 16,- € |
| Islay Storm | 40 Vol. % | 4,- € | 7,- € |
| Ileach ~ Cask Strength | 58 Vol. % | 5,- € | 9,50 € |
| Big Peat (Ardbeg, Caol Ila, Bowmore, Port Ellen) | 46 Vol. % | 5,- € | 9,- € |
| Big Peat ~ C.S. (Christmas Edition 2013) | 54,9 Vol. % | 6,50 € | 12,- € |
| | | | |
| --- | --- | --- | --- |
| Speyside | | 2cl | 4cl |
| Auchroisk 10 Years – Flora Fauna | 43 Vol. % | 5,50 € | 10,- € |
| Balvenie 12 Years – Double Wood | 40 Vol. % | 5,- € | 9,- € |
| Balvenie 15 Years – Single Barrel | 47,8 Vol. % | 7,50 € | 14,50 € |
| Benriach – Cask Strength ~ Batch 1 | 57,2 Vol. % | 7,- € | 12,50 € |
| Benriach 15 Years ~ Tawny Port Finish | 46 Vol. % | 6,50 € | 10,50 € |
| Benriach 17 Years – Septendecim ~ Peated | 46 Vol. % | 7,50 € | 14,- € |
| Craigellachie 13 Years | 46 Vol. % | 6,50 € | 12,- € |
| Cragganmore 12 Years | 40 Vol. % | 4,- € | 7,- € |
| Glenfarclas – 105 | 60 Vol. % | 4,- € | 7,- € |
| Glenfarclas 12 Years ~ Sherry Cask Strength | 55,5 Vol. % | 6,- € | 11,- € |
| Glenfarclas ~ Oloroso Sherry Cask 1993/2012 | 46 Vol. % | 6,50 € | 12,- € |
| Glenfarclas 25 Years | 43 Vol. % | 9,- € | 17,50 € |
| Glenfiddich 12 Years | 40 Vol. % | 3,50 € | 6,- € |
| Glenfiddich 18 Years | 40 Vol. % | 6,50 € | 11,50 € |
| Glenlivet 12 Years | 40 Vol. % | 3,50 € | 6,- € |
| Glenlivet 15 Years ~ French Oak | 40 Vol. % | 5,- € | 9,- € |
| Glenlivet 16 Years – Nadurra ~ Cask Strength | 54,2 Vol. % | 6,50 € | 12,50 € |
| Glenlivet 18 Years | 43 Vol. % | 6,50 € | 12,- € |
| Glenlivet 21 Years | 43 Vol. % | 8,50 € | 16,50 € |
| Glenrothes ~ Sherry Cask Reserve | 40 Vol. % | 4,50 € | 8,- € |
| Glenrothes – Vintage 1995/2014 | 43 Vol. % | 6,50 € | 12,- € |
| Linkwood 12 Years – Flora Fauna | 43 Vol. % | 6,50 € | 12,- € |
| Macallen -Amber | 40 Vol. % | 6,50 € | 12,- € |
| Macallen – Sienna | 43 Vol. % | 7,- € | 12,50 € |
| Mortlach – Rare Old | 43,4 Vol. % | 9,50 € | 17,- € |
| | | | |
| --- | --- | --- | --- |
| Highlands | | 2cl | 4cl |
| Dalmore – Valour | 40 Vol. % | 4,50 € | 8,- € |
| Dalmore 18 Years | 43 Vol. % | 10,50 € | 19,- € |
| Dalmore – King Alexander III | 40 Vol. % | 11,50 € | 19,- € |
| Dalwhinnie – Distillers Edition 1998/2015 | 43 Vol. % | 7,- € | 13,- € |
| Edradour 10 Years ~ Sherry Decanter | 58,4 Vol. % | 7,- € | 13,50 € |
| Glenmorangie 10 Years | 40 Vol. % | 3,50 € | 6,50 € |
| Glenmorangie 12 Years – Quinta Ruban Port C. | 46 Vol. % | 5,- € | 9,50 € |
| Glenmorangie 12 Years – Nectar d'Or | 46 Vol. % | 5,50 € | 10,50 € |
| Glenmorangie 18 Years – Extremely Rare | 43 Vol. % | 7,- € | 13,50 € |
| Glengoyne 10 Years | 40 Vol. % | 4,- € | 7,- € |
| Glengoyne – C.S. ~ Batch 3 | 58,2 Vol. % | 6,50 € | 11,50 € |
| Glengoyne 21 Years ~ Sherry Oak | 43 Vol. % | 9,50 € | 18,- € |
| Glendronach ~ Cask Strength ~ Batch 5 | 55,3 Vol. % | 8,- € | 14,- € |
| Glendronach 12 Years | 43 Vol. % | 4,- € | 7,50 € |
| Glendronach 18 Years ~ Tawny Port | 46 Vol. % | 8,50 € | 14,50 € |
| Oban 14 Years | 43 Vol. % | 5,- € | 9,50 € |
| Oban 15 Years – Distillers Edition 1996/2011 | 43 Vol. % | 6,50 € | |
| Old Pultney 12 Years | 40 Vol. % | 4,- € | |
| Old Pultney 17 Years | 46 Vol. % | 7,50 € | |
| Royal Lochnagar 12 Years | 40 Vol. % | 4,- € | |
| | | | |
| --- | --- | --- | --- |
| Lowland | | 2cl | 4cl |
| Auchentoshan – Heartwood | 43 Vol. % | 5,- € | 8,50 € |
| Auchentoshan – Springwood | 40 Vol. % | 4,- € | 7,50 € |
| Auchentoshan 12 Years | 40 Vol. % | 3,50 € | 6,50 € |
| Auchentoshan ~ Amerikan Oak | 40 Vol. % | 3,50 € | 6,50 € |
| Auchentoshan – Valinch ~ Cask Strength | 57 Vol. % | 4,50 € | 8,50 € |
| Auchentoshan – Three Wood | 43 Vol. % | 5,50 € | 10,- € |
| Auchentoshan – Virgin Oak | 46 Vol. % | 7,- € | 13,50 € |
| Glenkinchie – Distillers Edition 2000/2013 | 43 Vol. % | 5,50 € | 9,50 € |
| | | | |
| --- | --- | --- | --- |
| Orkney Insel | | 2cl | 4cl |
| Highland Park – Harald | 40 Vol. % | 8,- € | 15,- € |
| Highland Park 12 Years | 40 Vol. % | 4,- € | 7,- € |
| Highland Park 18 Years | 43 Vol. % | 12,- € | 20,- € |
| | | | |
| --- | --- | --- | --- |
| Campbelton | | 2cl | 4cl |
| Springbank – CV | 46 Vol. % | 4,50 € | 8,- € |
| Springbank 10 Years | 46 Vol. % | 4,50 € | 8,- € |
| Springbank 12 Years ~ Cask Strength | 52,2 Vol. % | 5,50 € | 10,50 € |
| Springbank 15 Years | 46 Vol. % | 6,50 € | 12,50 € |
| Springbank 18 Years | 46 Vol. % | 8,50 € | 16,50 € |
| Longrow – Peated | 46 Vol. % | 5,- € | 9,- € |
| Longrow 14 Years | 46 Vol. % | 7,- € | 13,50 € |
| Longrow 11 Years – Rundlets & Kilderkins | 51,7 Vol. % | 8,- € | 14,50 € |
| Hazelburn 12 Years | 46 Vol. % | 6,50 € | 12,50 € |
| | | | |
| --- | --- | --- | --- |
| Isle of Skye | | 2cl | 4cl |
| Talisker 10 Years | 45,8 Vol. % | 4,- € | 7,50 € |
| Talisker – 57°C North | 57 Vol. % | 7,- € | 12,50 € |
| Talisker – Skye | 45,8 Vol. % | 4,- € | 7,50 € |
| | | | |
| --- | --- | --- | --- |
| Germany | | 2cl | 4cl |
| Glen Els – Distillers Edition ~ Sherry Cask | 45,9 Vol. % | 6,50 € | 12,- € |
| | | | |
| --- | --- | --- | --- |
| Japan | | 2cl | 4cl |
| Nikka 12 Years – Miyagikyo | 45 Vol. % | 9,50 € | 17,50 € |
| Nikka 15 Years – Yoichi | 45 Vol. % | 10,50 € | 18,50 € |
| Nikka – Taketsuru ~ Pure Malt | 45,8 Vol. % | 4,50 € | 8,- € |
| Nikka – from the Barrel | 51,4 Vol. % | 6,- € | 11,50 € |
| | | | |
| --- | --- | --- | --- |
| Whisky liqueur | | 2cl | 4cl |
| Drambuie | 40 Vol. % | 6,- € | 11,50 € |